It feels like it's been a long time since I was able to dig in and paint some furniture. Painting furniture is one of the things I love the most and not only does it transform the furniture, but it is also good for the soul – my soul at least 😉
I have been wanting to get my hands on this vintage dresser at the family cottage and while I was there in September I did just that. I had brought along some bags of milk paint in a few different colours that I thought might work and almost immediately settled on the Fusion milk paint in Mod Mustard.

Most of the windows in the cottage are yellow glass that was repurposed from an old church. (you can read about them here…) They give the bedrooms a beautiful glow but can make them feel a little dark at times. The Mod Mustard was the perfect choice to brighten up the space.
Painting the Dresser – The First Coat
When using milk paint for the first time, I always tell people not to be scared of the first coat. Milk paint always looks better the more coats you put on so don't be frightened with that initial coat.
For this dresser, I went straight for full-on paint with just a tiny squirt of bonding agent. I knew I wanted to distress the dresser so didn't add much and didn't worry about letting it bond overnight.
The Second Coat
The dresser was already looking better as the second coat was going on. You can see what a difference that next coat makes below.
Distressing
Since I wanted this dresser to have a well-used cottage feel to it, I didn't apply a third coat. Honestly, there was no point in putting on a third coat when I was going to sand a lot of it back off!
Once the second coat of the Mod Mustard was dry, I began sanding. I really like distressing to look natural, like it has occurred over a long period of time. I always keep my sanding to the edges and places that wear would have naturally occurred.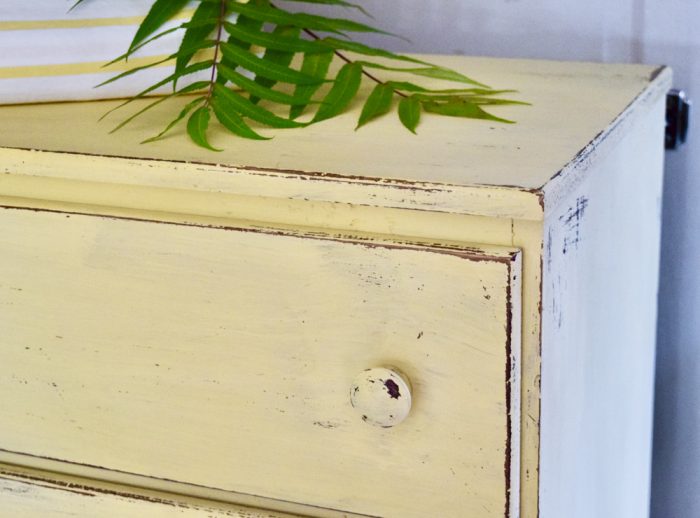 Sealing the Paint
The final step for this beauty was to seal it with a coat of furniture wax. If you have not tried the Fusion furniture wax, I would highly recommend it. It is so creamy and smooth, it is by far my favourite wax of them all… AND… you can get it in lavender scent!
This project was so quick and easy and made such a big impact. I only used about half a package of paint, a squirt of bonding agent (Ultra Grip), and a little wax. I couldn't be happier with how much brighter and warm the dresser feels.

No wonder Milk paint is always my go too! Have you tried it yet?
For a complete walkthrough of how to store, mix, use, and seal milk paint, check out my new Milk Paint 101 class. All classes are $10 off until Monday, October 11, 2021.
If you are looking to purchase milk paint, you can receive 15% off your order from Fusion with my link here…
**Please note that this post includes affiliate links. By using the link, the cost does not increase and a small portion of the sale is given back to help fund this blog. For your convenience, you can also find all of my favourite DIY products here. Thank you and Happy Creating! **