Happy Monday and Happy almost Thanksgiving to all of my lovely American friends! In the spirit of American Thanksgiving (and lots of company coming!) I wanted to share an update on my dining room set that I have been working on the past couple of weeks.
If you have followed along for a while, you know that I painted my wood dining room table and chairs with Milk Paint a few years ago. (you can see it here…) The table has held up beautifully; and I use it for everything! Unfortunately, the chairs did not fair as well. They had a few structural problems when I got them and they just didn't withstand the use so I have been on the hunt for new ones.
Back in the summer I stopped at one of the dump reuse centres on the way to the cottage and found these beauties! They were exactly what I had been looking for; low backs, wood, simple design, and best of all… FREE!
At the time, my car was full of book projects on their way to be photographed and I could only squeeze in two. I couldn't stop thinking about how perfect they were so the next day I drove back and luckily, the other two were still there. The lady volunteering at the dump even chuckled when she saw me and said "I wondered if you'd come back" 🙂
The Makeover
When I finally managed to get all four chairs back to the city, it was time for some paint. I grabbed my Miss Mustard Seed's Milk Paint in Ironstone and started the transformation (after a good wipe down of course LOL).
Here are the chairs after one coat. Milk paint rarely looks good after the first coat but if you stick with it, it always gets better. I added some bonding agent to the first coat as well to make sure that the paint didn't completely flake and chip off.
I ended up only putting on two coats and it was exactly the look I wanted to match the table.
The Chair Pad
Once they were painted, I wanted to soften up the look a bit and happened to stumble upon this chair pad at Target when I was in the United States a few weeks ago. I only bought one because I wasn't sure if it was the right size or how I would like it.
It turned out to be exactly the right size and the colour looks beautiful with the other things in the room. Now I just need to order three more (and add the leaf back to my table so it's not so small). Yay for black Friday sales!
I am so so happy with my new-to-me chairs and can't wait to get the other chair pads.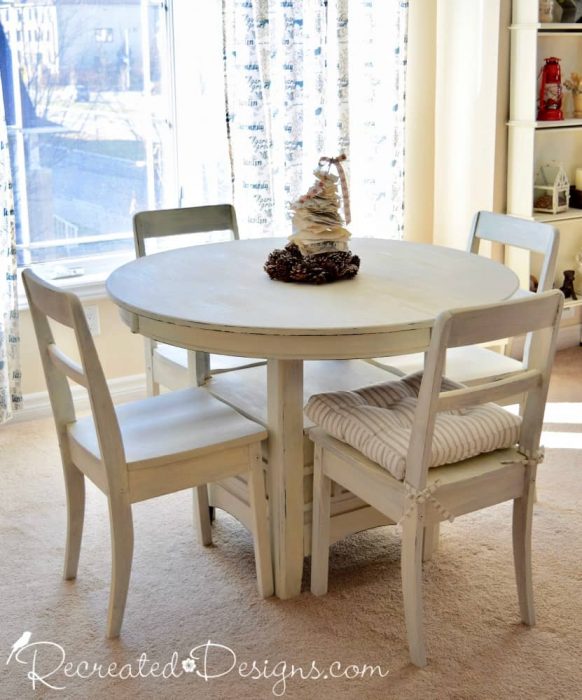 If you are getting ready for the holidays and tight on money or need extra seating, don't overlook places like thrift stores and the dump reuse stores. They have some amazing finds that can be transformed into exactly what you want.