I know we are all longing for Spring but here in Ottawa, we are in the midst of a HUGE winter storm. Over a 48-hour period, which we are currently in the middle of, we are expected to get between 1.5 and 2 feet of snow. With all of the white stuff outside I figured it was the perfect time to share how easy it is to give your leather skates a fun makeover.
Painting skates really is a fun undertaking and makes them look so beautiful. You can do this with new skates that you are using on the ice or with an old vintage pair that you want to use as decor.
The Skates
I found this pair of leather skates at the dump reuse centre (see more of what I have found at the dump here, here, and here…) this summer, and even though I originally planned to use them as decor, my niece had other plans and claimed them the minute they were done. Her family has a rink in their backyard and she couldn't wait to strap them on.
The blades were a little rusty, but hey, we live in Canada. There is a skate shop on every corner so I am sure they were easily cleaned and sharpened.
When I began the skate transformation, the only thing I did for prep was to wipe them down with a damp cloth. They didn't need anything else done to them.
I should note too that I did remove and throw out the old laces. They were pretty icky!
Using a thin, 1″ paintbrush, I gave them 2 coats of sky blue paint (find a similar one here). A gorgeous blue that has hints of turquoise is perfect to cheer things up in the winter.
The Feathers
I found this feather boa and thought it looked so pretty with the blue paint. It reminded me of an old muff that a lady would use to keep her hands warm when skating back in the day.
Cutting the boa down to the size was quick and I was able to attach it to the top of each skate with a line of hot glue. It did feel like I had feathers everywhere for a few minutes but they were easy to clean up thankfully 🙂
The Sparkle
Even with the feathers, I thought the skates needed a little razzle-dazzle… which is kind of funny because I am not normally a razzle-dazzle kind of person LOL. Despite that though, they just needed a little something more.
The "more" turned out to be some iridescent sparkle. I slathered the skates with glue by squirting it on using a paintbrush to spread it out.
Then, with the glue still wet, I shook the fine iridescent sparkle all over. They sat to dry overnight and the next day were ready to go.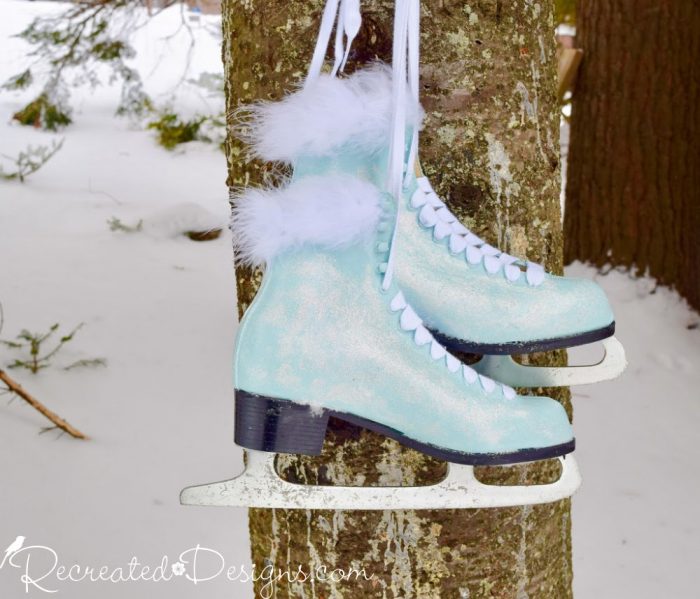 I am so glad I added the sparkle despite my misgivings. It really gave the skates such a pretty shimmer. They look perfectly ready for an old-fashioned skate around the pond now!
To make the Skating Pond sign, you can find the pattern and directions over at the Recreated Designs Pattern Shop here…
I hope that you are enjoying winter as much as I am 🙂
Happy Snow Day!
**Please note that this post includes affiliate links. By using the link, the cost does not increase and a small portion of the sale is given back to help fund this blog. For your convenience, you can also find all of my favourite DIY products here. Thank you and Happy Creating! **