Do you remember last year when I found the gorgeous Woodland Christmas transfer by IOD? (see that project here…) I turned a few of them into a piece of winter art but there were still a lot left in the package that I couldn't wait to use this year.
This year I thought it would be fun to add some of the transfers to an old mirror I found at the dump reuse centre. I absolutely loved the shape of the mirror when I found it and couldn't wait to use it.
The Mirror
The mirror was not in terribly good shape when I found it but it was solid and heavy. It had a few cracks and breaks in the frame but that just added to its charm.
It was also terribly dirty. I mean write in the dirt because it's an inch thick kind of dirty. Don't ever be turned off by dirt though… it can always be washed away.
Unfortunately, I was unable to fix the joints that had come apart. Instead, I just added some putty to smooth them out a bit and then gave them a sanding when the putty was dry.
The Paint
Wanting the piece to look old, I went straight to my stash of tried and true milk paint. I grabbed all of the different shades of green I had and layered them on.
The greens were sometimes quite close in colour but I didn't mind. It just added to the depth of colour and made it look like there were multiple layers of paint over the years.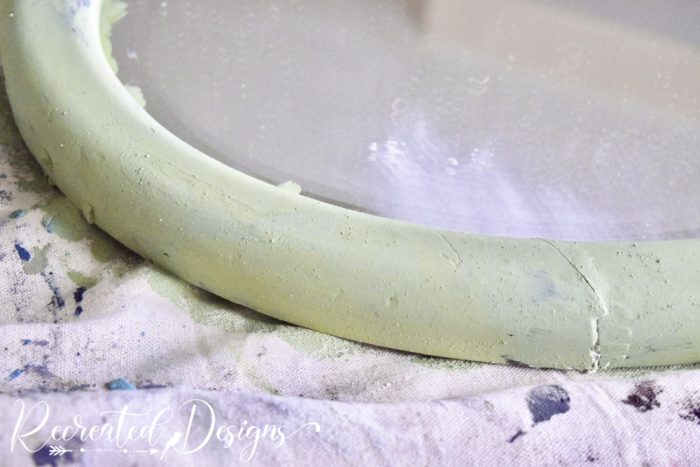 The Transfer
I chose the deer head and some greens and berries from the transfer pack for the mirror. They fit perfectly on the mirror so I cut them out and arranged them until I got a setup I liked.
If you have never used transfers before, they are super easy to use. Just peel the back off and rub away until the image comes away from the acetate sheet. It does take a little bit of elbow grease for the rubbing but they look gorgeous on just about anything.
The packages of transfers can be a little pricey but I have made two projects from this one package already and still have over half of the pack left. When you combine them with something free like the mirror, you can make a beautiful piece of decor for very little.

Doesn't he look so handsome? I will enjoy pulling him out each year to add a little vintage-inspired decor to my holiday decorations.
I hope you are finding some time to create something new for your decor this holiday season too. It is such a lovely feeling when you can turn something destined for the trash into such a pretty piece.
If you join me each month for the Junk into Gems Challenge, we are taking the month off to enjoy the holidays but will be back in January. If you haven't already, you can sign up for more info on the challenge here…